It is a two-liquid coating waterproof material with polyurethane resin, which is applied to exposed waterproof construction of architectural structures with excellent expansion rate and elasticity and excellent adhesion to the concrete.
1. General buildings, rooftops of APTs, etc.
2. Use as a medium and upper coating agent for floor layer requiring elasticity.
3. Waterproofing in bathrooms, toilets, etc.
e.g. volleyball courts, basketball courts, etc., general offices, classrooms, hospitals, libraries, etc.;
4. Waterproof of concrete structures such as vibrating power generation rooms, machine rooms, factories, etc.
1. Liquidity Gal layer + Aphalt layer + Urethane coating : Perfect triple waterproof performance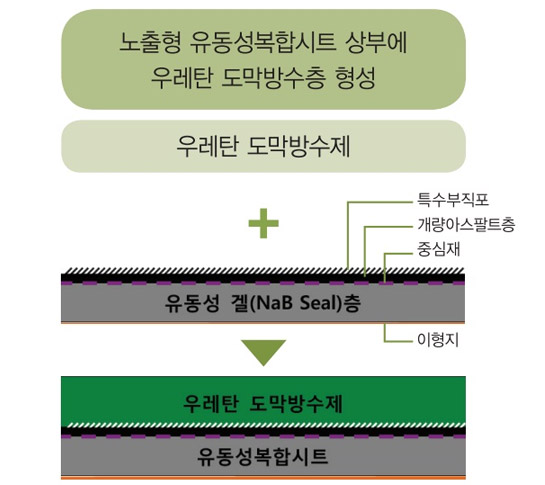 2. The wet floor surface is attached with the background and front adhesion method, and the leak diffusion problem of the existing waterproof
method is solved.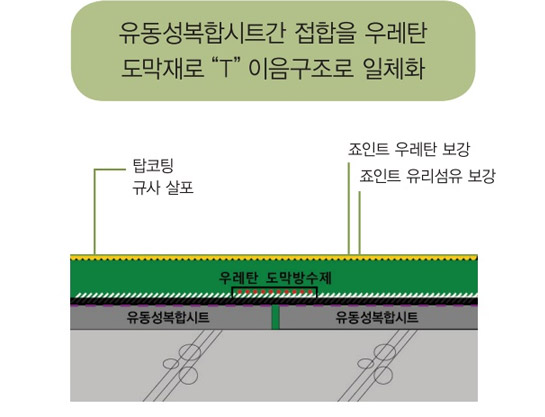 3. "T-type integrated joint structure" processing reduces the occurrence rate of finishing defects.
4. The appearance is subtle as various colors can be adjusted.